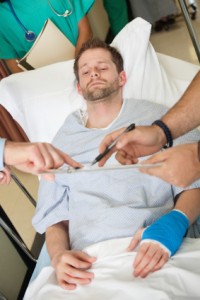 Group Critical Illness insurance offers plan members a non-taxable lump sum benefit in the event they are diagnosed with a covered critical condition. The lump sum benefit helps a plan member manage the financial impact of an illness and may be used for items such as:
Medical costs not covered by Government programs or private health insurance
Cost of personal or dependent care
Mortgage payments while away from work
Transportation to and from treatment.
Some covered conditions include cancer, heart attack, stroke, MS and paralysis. Coverage is typically guaranteed medically up to a certain threshold and additional protection is often available.
Click here for more information on Group Critical Illness Benefits
GROUP SHORT TERM DISABILITY INSURANCE
GROUP DISABILITY INSURANCE – LONG TERM DISABILITY COVERAGE
How Group Disability Insurance and Critical Insurance Can Help Markham Businesses and Employees - A critical illness or disability can happen to anyone. Every day people are faced with the challenge of maintaining their current lifestyle after suffering from a major health issue.