Brett Tanner


President
Group, Life, Disability & Critical Illness Consultant
As an independent life insurance broker with Tanner Financial Services, Brett is also the exclusive agent for the Chambers of Commerce Group Insurance Plan in North York servicing the Toronto Regional Board of Trade. Brett is the Regional Marketing Director for the Chambers Plan in Ontario.
Brett began his insurance career in 1997 as a life insurance broker.
Brett is also very proud to run the Tanner Financial Services Charity Golf Classic each year benefitting autistic children. Over the first 11 years the event has raised over $100,000 towards helping these children and their families.
Sharon Wang, P. Eng.
Wealth Advisor
Life, Disability and Critical Illness Consultant
Sharon Wang has worked in the financial sector focusing and providing client centric services and solutions since 2009.  Sharon is a licensed securities advisor, and life insurance broker. She is also a tax professional providing tax preparation and planning services to our clients.  Prior to joining the financial services industry, Sharon worked in the computer software industry for over 20 years focusing on financial software. She graduated from the University of Toronto Electrical Engineering in 1985 with a degree as a Professional Engineer.  Sharon is currently working on her CFP designations.
Sharon loves to work with people to help them to reach their financial goals. Sharon works from both the investment side and credit side to provide full, tax efficient and complete financial plans and solutions that focus on the specific needs of the clients.
Sharon loves to golf and is very active in local charities. Sharon is fully committed to providing an outstanding level of service and support to our clients. Sharon is also fluent in Mandarin.
Manuel Ferreira


Group Benefits Broker
Manuel obtained his insurance license in 2007 after a 17 year career as Operations Manager for a North American wide distributor of construction materials.
As an independent life insurance broker with Tanner Financial Services, Manuel is an exclusive agent for the Chambers of Commerce Group Insurance Plan in North York servicing the Toronto Region Board of Trade and in Brampton servicing the Brampton Board of Trade. Additionally he provides expert consultation and advice in the areas of employee benefits, life insurance, disability and critical illness for individuals and companies of all sizes and industries.
Manuel's focus is on individual employee benefits, critical illness, disability and life insurance for owners and employees of small businesses. Manuel is also fluent in both Spanish and Portugese, while representing the Toronto Hispanic Chamber.
Manuel is the Honorary Ambassador of the Brampton Board of Trade and a Board member of the King City Skating Club.
Jane Ho


Accounting



Financial & Administrative Assistant
Jane graduated with a General Accounting Diploma from Centennial College and has worked in the accounting field for over 20 years. She has been with the Tanner Financial Services team since 2009 as our Financial and Accounting Administrator.
Jane is fluent in both Cantonese and Mandarin. She enjoys using her accounting and administrative skills to provide the highest level of customer service to our clients. She is also experienced with income tax preparation, and is adept at multitasking.
Paul Chiarot




Associate Regional Marketing Director
Paul joined Tanner Financial in 2012 as Associate Regional Marketing Director for the Chambers Plan in Ontario. Paul holds a science degree from Dalhousie University and a degree in Chemical Engineering from the University of Waterloo. Prior to joining Tanner Financial, Paul held a variety of positions of increasing responsibility at Honeywell Limited in the Toronto Area. These roles included: Product Specialist, Product Manager, Estimating Supervisor and Project Manager. Paul has had a keen interest in business, marketing and investing for nearly 20 years. He is now an insurance advisor.
Paul has been involved in a number of hobbies including coaching his children's soccer teams.
Paul believes in providing the best possible service to both internal and external customers thereby building lasting relationships and growing businesses.
Christopher Tanner, GBA


Group Benefits Broker
Chris joined Tanner Financial Services in 2006. He earned his life, accident, and sickness insurance licence in 2008. With a primary focus on group benefit plans for businesses of all sizes, Chris earned the Group Benefits Associate (GBA) designation through the International Foundation of Employee Benefit Plans and Dalhousie University in 2013. He is committed to furthering his education in multiple areas of the group benefits and insurance industry. Chris takes pride in building long-term solutions and lasting relationships with his clients.
As an independent insurance and group benefits broker with Tanner Financial Services, Chris is also an exclusive agent for the Chambers of Commerce Group Insurance Plan in North York, Scarborough and Brampton servicing the Toronto Region Board of Trade and Brampton Board of Trade.
In his free time, Chris enjoys writing music, working out, the outdoors and spending time with family and friends.
Cynthia Sani-Bakhtiari




Client Service Representative, Life Advisor



Serving as our Client Service Representative for our group and individual life clients, Cynthia is an integral part of our team. Prior to relocating to the GTA Cynthia studied at the University of Buffalo earning a Bachelor's degree in 2006, and is also life licensed. She brings forth over 15 years' experience in the customer service field and enjoys interacting with her clients in striving to provide extraordinary support at all times. A true Leo, Cynthia is both loyal and energetic, and as well a proud mother and wife.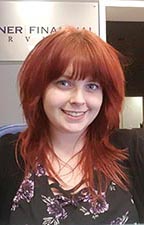 Taylor Rae


Financial, Marketing and Administrative Support Manager
Taylor joined the Tanner Financial team in Summer 2018. She comes from a background of legal administration and has her Diploma as a Law Clerk from Seneca College School of Legal and Public Administration. Previously, she studied graphic design, journalism and media at the University of Guelph-Humber.
Taylor's role revolves around social media, reception for the office, assisting Brett and the advisors and chambers which work within the Chambers Plan.
When not hard at work, Taylor enjoys spending time with friends and family.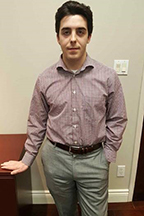 Dale Clinker


Administration
Mortgage Agent (Lic. #M19002845)
Since earning his Bachelor of Commerce degree from Queen's University in 2014, Dale has successfully completed the Canadian Securities Course, and became a licensed mortgage agent in 2019 (Lic. #M19002845)
Dale has been with Tanner Financial Services since the beginning of 2018, and currently assists advisors in building personal financial plans and in mortgage brokering. He is invested in expanding his financial knowledge and is committed to continuing his education in multiple facets of the financial industry.
Dale is a passionate hockey fan and enjoys spending time up north at the cottage.