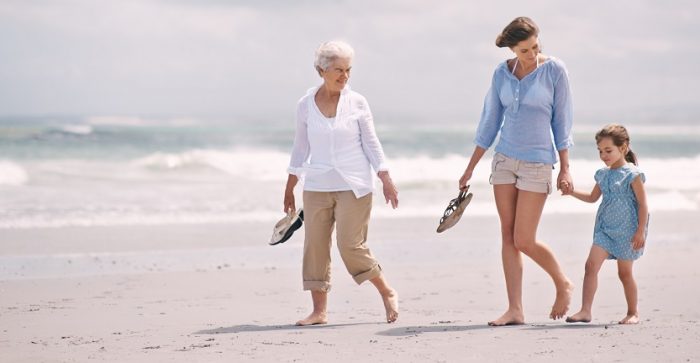 It's a significant life change when your roles have reversed and you're the one helping a parent with daily living. Meanwhile, you also care for your children at home. Welcome to the sandwich generation.
The term was coined almost 40 years ago by social worker Dorothy Miller to refer to women performing this double duty. And today, according to the most recent research[1], women still form the majority of family caregivers in Canada.
When you're a caregiver to two generations, you've got to be at your best to meet everyone's needs. The middle of the sandwich can begin in a healthy place, only to have feelings of satisfaction eventually turn to frustration. It's not unusual to find yourself harried and stressed when you're being pulled in two different directions.
You can deal with caregiver stress by adopting these four self-care and caregiving best practices and ultimately improve your well-being.
Monitor your well-being
Keeping an eye on your own emotional, physical and mental well-being is important. Stress may express itself through your emotional state – feeling overwhelmed, excessively worried, angry, irritable, anxious or depressed. You might lose interest in pastimes you usually enjoy. Or begin having conflicts with your spouse or children.
Monitoring these symptoms is especially important for women. Research[2] shows that women and men have different triggers that cause stress. And sandwich generation caregiving involves several triggers specific to women, including dealing with children, family health and time constraints, and meeting others' expectations.
It's important not to write off these problems as normal consequences of sandwich generation caregiving. Ignored, your symptoms could worsen; but treated, you can get back to a healthy place.
Make time for self-care
When you experience these signs of stress – or, better yet, before stress arises – you need to practise self-care. Many caregivers who take the time to care for their children and parents forget to make time for themselves. How can I do pilates if I could be visiting mom?
Self-care is all about looking after your physical and emotional health. You might exercise at the gym, take pleasant strolls or eat healthier. Or perhaps you'll meditate, do yoga or take spin classes. Maybe you'll talk things out with a friend, relative or therapist. Whatever works for you.
It's important to understand that caring for yourself is not selfish. Everyone's entitled to live their life with as little stress as possible. And the stronger you become, the better able you are to provide care for your loved ones.
Share the responsibilities
In Canada, women who provide care spend more hours per week helping family members than men who provide care. Although gender roles are blurring, many women still identify as the primary caregiver.
One way you can manage this responsibility is by asking for help and sharing the responsibility with family, such as a spouse or sibling. By asking for help and sharing caregiving needs, you not only can achieve greater balance in your life, but you gradually start to shape the positive conversation on equality and gender roles.
Another avenue that may be worthwhile is seeking external support. Many caregiving hours can be managed by arranging housekeeping services, meal delivery or private home healthcare, or talk to your employer about a flexible work schedule.
There's no one size fits all solution. Determine what support you need and from whom and strive to make it happen.
Seek financial guidance
A sandwich generation caregiver can also face a variety of financial planning matters, from learning about power of attorney and caregiver tax credits, to covering healthcare expenses and determining if leaving the workforce affects your retirement date.
A financial advisor can provide guidance and advice for many aspects in this phase of your life. They can help you navigate the changes, identify pitfalls you don't see, and recommend solutions that open new opportunities for you or make the financial side of caregiving a lot easier for you.
To get started, speak to your Advisor or contact one of our Advisors.
[1] Statistics Canada, General Social Survey on caregiving and care receiving, 2012.
[2] Statistics Canada, Stress, health and the benefit of social support, 2004.